Alberta Dairy Show and Sale
Dairy Show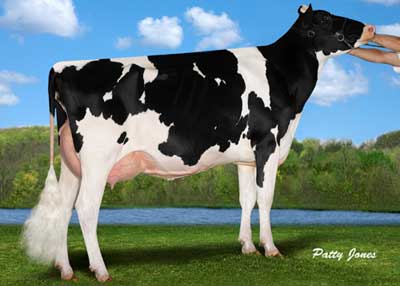 When you think about a milk cow, the picture in your head is probably more dirty, smelly animal than pampered princess, but that's exactly what you'll find when you attend the Dairy Show at the Alberta Dairy Congress.
The Dairy Show gives producers from across the province an opportunity to show off the best cows in their herd.
2021 Congress 
The auctioneer is TBA
Stay tuned for the 2021 Show Program.
With so much pride on the line, producers go all out to make sure these cows look their best. Each cow entered in
the Dairy Show brings along an entourage of handlers to ensure she is bathed, groomed and clipped before entering the judging ring.
That's right, the Dairy Show is all about looks. The cows are evaluated on several criteria, but mainly the judges are looking for a straight back, good legs, a well-attached udder, depth of rib and an overall 'feminine' look.
Young producers get the first chance to impress the judges at the Jr. Dairy Show, held Thursday beginning at 5:00 p.m. This is for producers aged 10 - 21. The main Dairy Show, open to producers of all ages, is scheduled for Saturday from 9:00 a.m. until 4:00 p.m. Both shows will be held in the Leduc County Tent.
New in 2021 - Jersey Show beginning at 5:00 p.m. on Thursday, August 12.
This year's judges are;
Junior Show - TBA
Jersey Show - TBA
Open Show - TBA
Herd Builder Sale
The Dairy Sale, also known as the Herd Builders Sale, goes Thursday from 1:30 - 4:00 p.m. This sale is an opportunity for new producers to increase the size of their herds and for established dairies to introduce new bloodlines or get a return on their investment by selling some of their top animals. Only the highest quality cows are allowed to be put up for consignment in this sale and all animals will be pre-selected.
If you are interested in putting a cow up for consignment, contact the Dairy Congress.
Members of the general public are welcome to take in the Dairy Shows and the Dairy Sale. Tours of the barns will also be available. Come see where the cows are housed during the Congress and see for yourself how well these pampered princesses are treated.
2021 Alberta Dairy Congress Herd Builder Sale Catalog