Alberta Dairy Herd Builder Sale
The 2013 herd builder sale catalog is ready.
The heard builder sale is a staple of the Dairy Congress events. This year promises to be as impressive as usual. Click here to download the catalog to see the high quality cows and bloodlines available.
The 2013 Dairy Show Program is ready.
The Dairy Show gives producers from across the province an opportunity to show off the best cows in their herd. Click here to download the program
Have you booked your Trade Fair booth yet?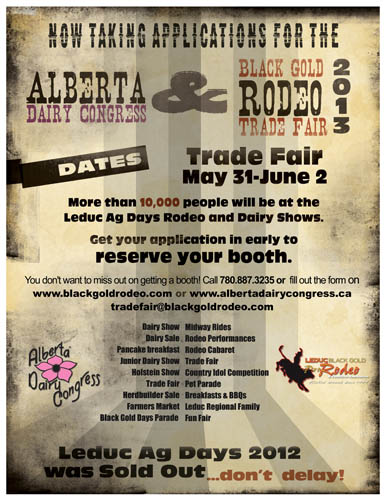 Don't let this opportunity pass you by! Last year's Trade Fair was sold out of booth space and saw thousands of visitors come through the doors looking for products, services and information about Leduc and area businesses.
Click poster to reserve your booth today!

Dairy Congress is seeking volunteers to help plan 2013 events.
The next Dairy Congress meeting will be held at 11 a.m. on April 3 at Black Jacks. Join us for lunch that day or contact the Dairy Congress committee if you want to get involved

The Alberta Dairy Congress is four days of entertainment, information and networking opportunities designed to promote agriculture in Alberta, with a focus on the dairy industry. Do Albertans really know where their food comes from, other than the grocery store? Most of us probably know our milk, meat and produce comes from farms, but how much do we actually know about the way our food is grown and harvested? And about those who produce it?
The Annual Alberta Dairy Congress is your chance to take an inside look at the dairy industry and get in touch with Alberta's agricultural roots.
Events include Farm Fun, Dairy Show and Sale and Trade Fair.
All events take place at the Leduc Recreation Centre, May 30 – June 2. This year's Congress will be held in conjunction with the Leduc Black Gold Rodeo, which will also be held at the LRC, May 30 – June 2.
Don't miss out! Mark your calendar for Alberta Dairy Congress 2013!