Congress NEWs
Celebrate the 30th Anniversary of the Alberta Dairy Congress June 7-11, 2016
It's a big year for the Alberta Dairy Congress so we are planning some big things.  
All events take place at the Leduc Recreation Centre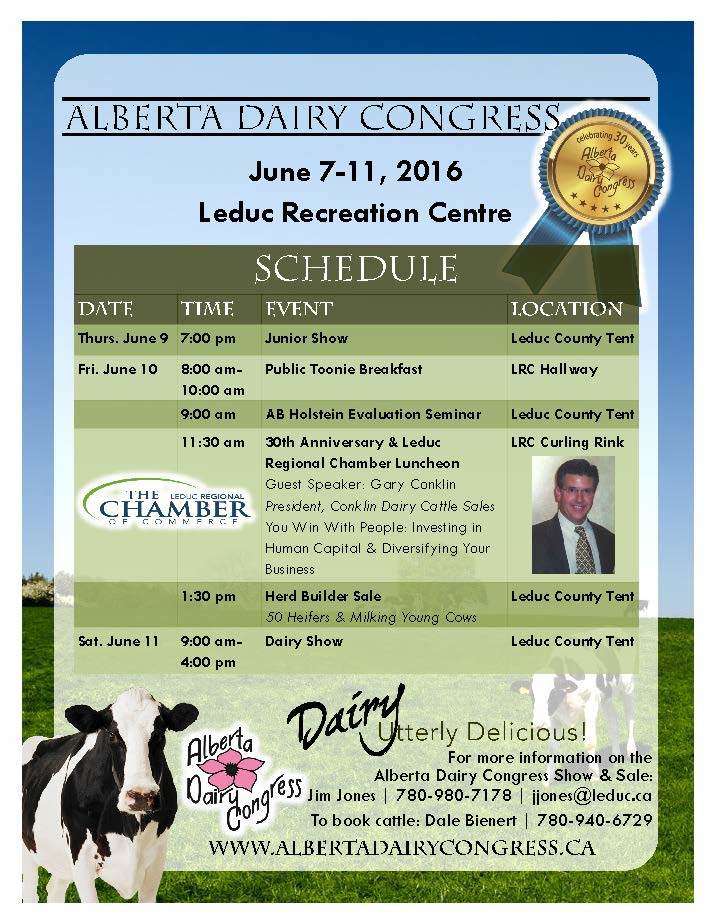 Looking for accomodations? Check out our prefered hotels
Four Ways Supporting Alberta Dairy Congress will grow your business:
Create awareness and promote your company's goods and services
Generate and grow your business in the dairy industry
Meet dairy producers and do business
Make new contacts; that will build relationships
Alberta Dairy Herd Builder Sale
The Herd Builder Sale Catalog
The herd builder sale is a staple of the Dairy Congress events. The 30th anniversary of the Alberta Dairy Congress promises to be impressive.
Click here to download the 2016 Herd Builder Sale Catalog to see the high quality cows and bloodlines available. 
The Dairy Show Program
The Dairy Show gives producers from across the province an opportunity to show off the best cows in their herd.
The Alberta Dairy Congress is four days of entertainment, information and networking opportunities designed to promote agriculture in Alberta, with a focus on the dairy industry. Do Albertans really know where their food comes from, other than the grocery store? Most of us probably know our milk, meat and produce comes from farms, but how much do we actually know about the way our food is grown and harvested? And about those who produce it?
The Annual Alberta Dairy Congress is your chance to take an inside look at the dairy industry and get in touch with Alberta's agricultural roots.
Click here to download the 2015 program.
industry news
Leduc employee's dairy connectionruns deep!
Marissa Vroegh, on the cover, is the niece to City of Leduc employee, Trudy Vroegh.  Trudy is the Administrative Assistant for the Family and Community Support Services Department and grew up on a dairy farm.  In fact, her brother's farm (Sunny Point Farms) was just named 4th by Canwest DHI and Valacta in herd management across the country and was ranked number one in Nova Scotia.
News Release Herd Management Award Winners Top 10 National Top 3 Prov 2015_Feb2016.pdf
Leduc Regional Ag-Business Conference
Presented by the Leduc & District Chamber of Commerce


An unparalleled, event bringing together regional farmers, ranchers, and food makers from across disciplines and commodity sectors to learn from experts, connect, and champion local farming! 2016 dates TBA